MyCopyWorks - Words that work on the web - Jan Fletcher, freelance copywriter
Hiring someone to write your marketing and communications can save you hours of time and frustration.
So if writing isn't your strength, or you simply need to get on with other work, I can help.
Case Studies
Blackhouse Website Portfolio: branding, websites, adverts Audience: B2C
Blackhouse is a new design house in Scotland that pairs beautiful upholstered furniture with Harris Tweed.
My brief was to help launch and develop the brand by creating content for their new website, drawing on the established heritage of Harris Tweed and Blackhouse's own story to engage target audiences and drive sales.
The website features short adverts showcasing the stunning fabric and landscape of the Outer Hebrides interspersed with longer content on Harris Tweed's heritage, the fabric's inherent benefits and the Blackhouse design ethos.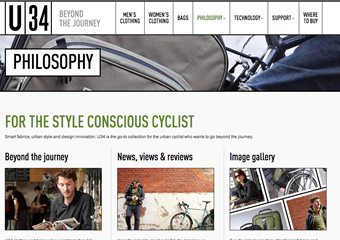 Union 34 Portfolio: tone-of-voice, website Audience: B2C
Working with digital marketing agency, Curve Interactive, I helped Fisher Outdoor Leisure launch U34, a new brand of clothes and bags designed especially for the urban cyclist.
Interviewing staff and drawing on Fisher's substantial marketing research helped me crystalize their philosophy and product benefits into engaging, persuasive copy.
My brief was to write key content for their site and to illustrate a 'personality' and style to be adopted by all in-house writers.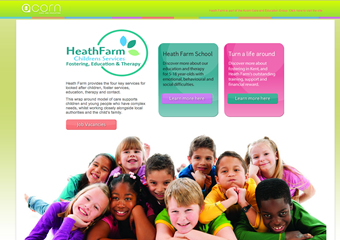 Heath Farm Children's Services Fostering, Education and Therapy Portfolio: brochure, website, e-campaigns, press articles Audience: residents and local education authorities
Heath Farm is an independent agency that recruits and supports foster carers for children with emotional, behavioural and learning difficulties.
Working with Curve Interactive, my brief was to produce whatever written content was required to boost fostering enquiries and conversions - including a new brochure, website, case studies, articles, e-campaigns and press ads.
I spent a good deal of time researching what motivates people to foster and the best ways to address common concerns. Why? Because I want the copy to attract the right people and this requires a welcoming tone, an honest account of the work involved, plus reassuring content on the support and personal rewards. Speaking to Heath Farm's social workers and foster carers was invaluable.
World Challenge Portfolio: travel writing, yearbook (corporate communications) Audience: customers, staff and stakeholders
World Challenge provides educational expeditions in the developing world that teach life skills and expand minds outside the classroom. They asked me to write about their expedition destinations to help teams make that crucial first decision - where in the world to go!
My brief was to capture the team's imagination and offer a flavour of the destination's landscape and culture, along with possible project work, treks and fun things to do. I worked closely with expedition managers, researching information and crafting it into inspiring copy with a coherent style (and maximum word length). This takes graft when you're covering over 100 destinations.
I also edited the World Challenge yearbook, a collection of articles celebrating achievements, promoting new destinations and encouraging a sense of community among customers, staff and stakeholders.
Youth Hostel Association Portfolio: e-campaign, micro-site Audience: Teachers
The Youth Hostel Association is known worldwide for providing welcoming, affordable shelter for backpackers and young people, but many centres in the UK also cater for school trips.
The objective of the Escape the Classroom campaign, managed by Curve Interactive, was to challenge teachers' perceptions of the YHA, introducing them to the fun, curriculum-based activities on offer and the ways the association can help with planning, funding and running trips.
My brief was to improve the content on the campaign's microsite and write a series of emails to teachers, introducing them to the curriculum-linked activities available and developing the theme of 'things to do before you're 12'
Essentiamail Portfolio: CRM E-campaigns Audience: B2B and B2C customers and prospects
Essentiamail is a Bristol-based email marketing specialist helping hundreds of small businesses across the South West to keep regular contact with customers (and prospects) by planning, writing and broadcasting e-campaigns.
The secret of their success is their approach. They don't advocate pushy salesmanship – just straightforward, friendly and helpful information that engages the reader.
I helped several small to medium-sized businesses to reach out to their customers, researching benefits and the latest industry information before writing the campaigns.