MyCopyWorks - Words that work on the web - Jan Fletcher, freelance copywriter
Hiring someone to write your marketing and communications can save you hours of time and frustration.
So if writing isn't your strength, or you simply need to get on with other work, I can help.
Case Studies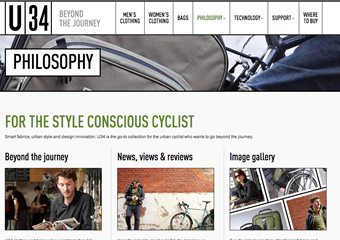 Union 34 Portfolio: tone-of-voice, website Audience: B2C
Working with digital marketing agency, Curve Interactive, I helped Fisher Outdoor Leisure launch U34, a new brand of clothes and bags designed especially for the urban cyclist.
Interviewing staff and drawing on Fisher's substantial marketing research helped me crystalize their philosophy and product benefits into engaging, persuasive copy.
My brief was to write key content for their site and to illustrate a 'personality' and style to be adopted by all in-house writers.
Excerpts

			

Web page: Philosophy


			U34 clothes and bags solve a problem faced by every urban cyclist - how to gear up for a comfortable ride into work, without the hassle of all that kit when you arrive.
 

			Like you, we ride in any weather. But we don't want to arrive for a meeting with a crumpled shirt, or sit down for lunch in Lycra. And we don't always want to carry a change of clothes or ride with heavy bags on our backs.
 

			So behind every U34 design is this simple philosophy. Our clothes and bags need to deliver much more than a comfortable ride. They need to work beyond the journey too, so you can enjoy all the technical qualities you'd expect of performance cycling gear, with stylish designs that look great around town or in the office.
		

			

Web page: Clever versatile bags


			Here's a dilemma you'll all recognise. You have a bag that's comfortable to carry in the city and fits all your stuff, but doesn't fix easily to your bike. So you carry it and your ride is compromised.


			Enter our stripe rucksack, a bag that's practical, looks great and is comfortable to carry. Best of all, it works with our unique seat-post fixing system to slide in and lock to your bike in seconds - so there's no fuss. We've equally great solutions for pannier bags too.
		

			

Home page gateways


			Men's clothing

			Designed by cyclists for cyclists, our outerwear and base layers combine clever performance details with latest high-street trends for a casual urban look.

			>more 

			

			Women's clothing

			Our slim-cut, stretch trousers and tailored waterproofs combine ergonomics with easy elegance. Ride in total comfort and arrive in style. 

			>more 

			

			Bags

			Discover our practical, sleek bags boasting an array of cycling and lifestyle features, such as dedicated compartments for clothes, office and bike gear, removable laptop sleeves, and hassle-free fixings that let the bike take the strain. 

			>more