MyCopyWorks - Words that work on the web - Jan Fletcher, freelance copywriter
Hiring someone to write your marketing and communications can save you hours of time and frustration.
So if writing isn't your strength, or you simply need to get on with other work, I can help.
Case Studies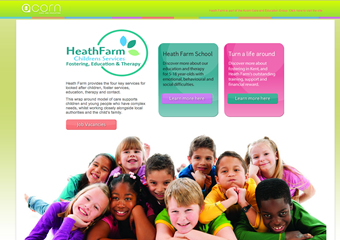 Heath Farm Children's Services Fostering, Education and Therapy Portfolio: brochure, website, e-campaigns, press articles Audience: residents and local education authorities
Heath Farm is an independent agency that recruits and supports foster carers for children with emotional, behavioural and learning difficulties.
Working with Curve Interactive, my brief was to produce whatever written content was required to boost fostering enquiries and conversions - including a new brochure, website, case studies, articles, e-campaigns and press ads.
I spent a good deal of time researching what motivates people to foster and the best ways to address common concerns. Why? Because I want the copy to attract the right people and this requires a welcoming tone, an honest account of the work involved, plus reassuring content on the support and personal rewards. Speaking to Heath Farm's social workers and foster carers was invaluable.
Excerpts

			

Brochure - Welcome


			Fostering is a rewarding, life-changing experience for everyone involved, but we know it can take several months, or even years, to take the plunge. This brochure will tell you more about the role and the exceptional support and training we offer here, but the best way to discover whether fostering is right for you is to meet our staff and carers. So please give us a call - we'd love to hear from you.    
		

			

Website


			Your day-to-day role

			We see fostering as an exciting, rewarding career for people who genuinely care about the welfare of all children and young people.


			Here's a snapshot of the types of things you'll be doing, apart from giving a safe, comfortable home to children.

			

			Working in a team

			You'll work with social workers, health professionals, school staff, therapists and the children's birth family to ensure the children's well-being and development.

			

			Attending meetings

			You'll participate in meetings about the child or children living with you. You may also help the children attend meetings with their family.

			

			Spending time with the children

			You'll play with the children, and talk through problems or issues. You'll include the children in all of your family activities, including trips and holidays, and encourage their hobbies and interests.
		

			

Magazine article


			Not just another day in the office (excerpt from longer article)


			So what skills do you need to foster? Like any job, it will suit some more than others. For starters, you'll need to care about children, have good communication skills as well as patience and dedication. And you should be ready for a challenge.


			Maureen and Glenn Varnham have been fostering with Heath Farm in Kent for over seven years. 'Fostering is a real challenge', Maureen says, 'but that's what keeps me going. Finding solutions to problems I encounter is fascinating. It's parenting, but it's also my career and I learn something every day.'


			Long term, stable foster homes for children and young people in Kent are hard to find, so if you're looking for a new challenge, find out more today. Fostering offers many personal benefits, from making like-minded friends and colleagues, to the satisfaction of seeing a previously troubled child start to flourish in your love and care.

		
What the client said
"Jan helped us to think strategically about the content of our marketing, brochure and website, and wrote in a welcoming and inspiring way.
As a result, we've seen uplift in visitors to our site who are, on average, spending longer looking at the information before enquiring or leaving the site.
Both the website and our new brochure are helping us convert more enquirers into formal applications to foster."
Hannah Fellows, Marketing and Admissions Manager
Download Heath Farm Brochure: here